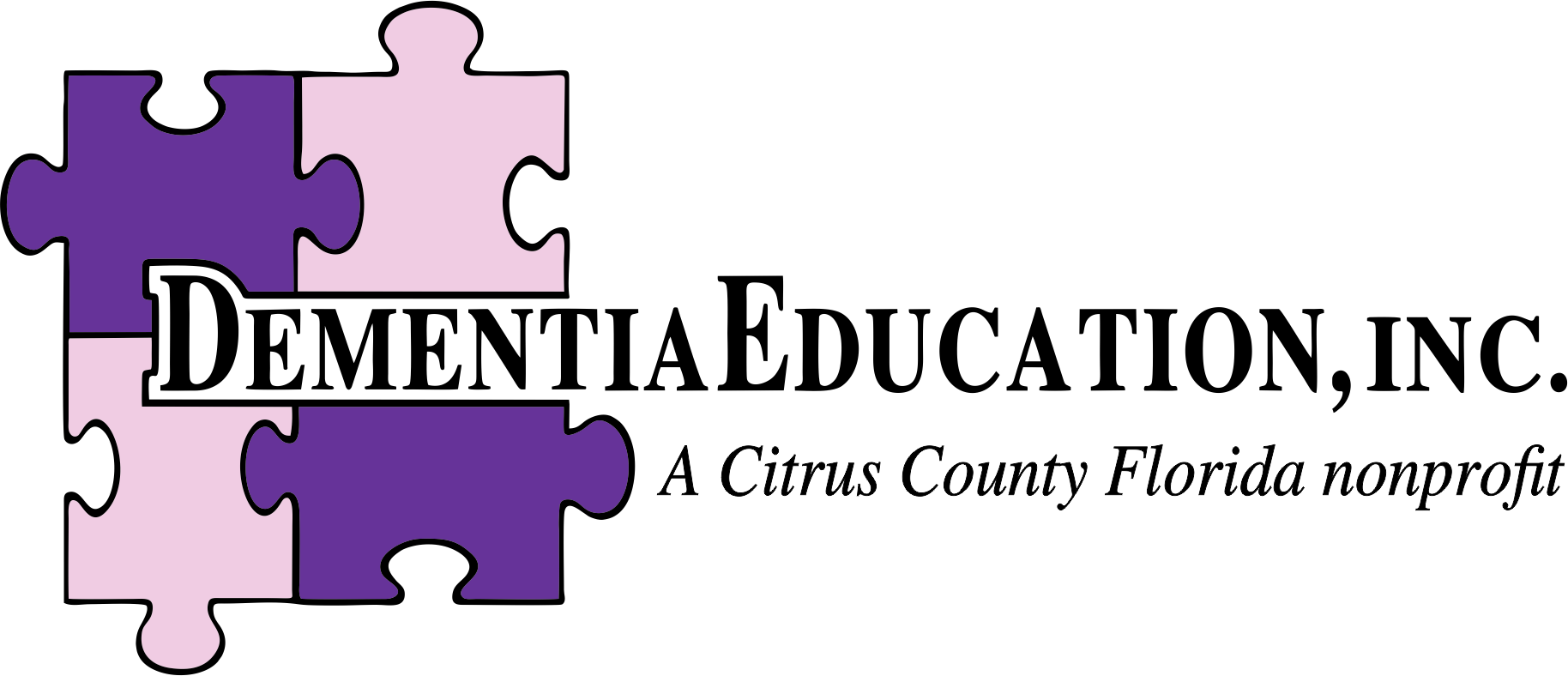 The Coping with Dementia Conference Agenda
Join us on-line for 16 hours of presentations by experts, distributed for your convenience over four days. Our emphasis will be on Person-centered Compassionate Care and the conviction that love and respect for a person's dignity are the best approach to maintaining the best possible quality of life for loved ones living with dementia. And thanks to Dementia Education, Inc. and our sponsors, there is no registration fee! Below is our agenda. All times listed are Eastern Standard Time. Topics and Speakers are subject to change. Any changes will be posted as promptly as possible on this page. Developments will be posted daily also on our Facebook pages: Coping with Dementia, Dementia Education Inc., and Citrus County Aware for Alzheimer's.
Agenda announced for Coping with Dementia Care-Partner Conference
Coping with Dementia LLC has announced a tentative agenda for its Seventh Annual Family Care Partner Conference, which will take place virtually from  February 9 through February 12, 2021.  More information about the conference, including how to register may be found at https://conference.coping.today.
Thanks to funding from the nonprofit Dementia Education Inc. and other sponsors, the conference requires no registration fee to participate.
Tuesday, February 9, 2021:
10:00 to 11:00 a.m. EST: Keynote Address: Teepa Snow, Efland, NC; Dementia theorist, practitioner, educator, and founder of the Positive Approach to Care.
11:00 to Noon EST: Debbie Selsavage, CDP; President of Coping with Dementia LLC, Inverness, FL.; An explanation of the Conference theme: "Loving them through it." The philosophy, methodology, and therapies of person-centered, compassionate, non-pharmaceutical care. Mr. Gary Solomonson will be joining Debbie in this discussion.
2:00 to 3:00 p.m. EST: Johnnie Jones, Teri Lonon, and Renee Horne; Florida Elder Options Caregiver Training and Support Team; Gainesville, FL.; The resources available to care partners from Elder Options.
3:00 to 4:00 p.m. EST: Pam Speta, Roseburg, OR.; Founder of Forget Me Not Village; Report on the development of a compassionate and home-like care environment based on an economical and replicable business model.
Wednesday, February 10, 2021:
10:00 to 11:00 a.m. EST: Jonathan Beard, Homosassa, FL; Grief Counselor, Friends of Citrus and the Nature Coast; Recognizing and dealing with grief throughout the journey of dementia.
11:00 a.m. to Noon EST: Sarah Elyaman, JD, Crystal River, FL; Owner and Lead Counsel at Absolute Law Group; Dealing with legal issues that will confront a care partner for loved ones living with dementia.
2:00 to 3:00 p.m. EST: Diana Waugh, RN, BSN, CDP, Waterville, OH.; President of Waugh Consulting; "I'm still in here . . . Come find me!; My Todays are a blur but my Yesterdays are my strength."
3:00 to 4:00 p.m. EST: Joshua Freitas, Mt. Dora, FL; Award-winning author and Vice President of Program Development at CERTUS Premier Memory Care; Practical ways that we can improve the quality of life for loved ones living with dementia.
Thursday, February 11, 2021:
10:00 to 11:00 a.m. EST: Georgette Bass, Daniel Jameson, Inverness, FL; Award-winning Activities Directors; Keeping loved ones with dementia active is therapy, not just entertainment.
11:00 to Noon EST: Cameron Calaverne, Community Liaison, Dr. Ayaeha Lall, Synexus Clinical Research, The Villages, FL; The status of research and the importance of dementia screening and diagnosis.
2:00 to 3:00 p.m. EST: Paula Bateman, Jim Davis, and Barry Denham, CMT; Citrus County, FL; Members of Paula's Pure Vintage play and talk about the marvels of music therapy.
3:00 to 4:00 p.m. EST: Bill Coyle, President of Mr. Bill Fitness, Crystal River, FL; Ways for care partners to maintain not just physical fitness, but also emotional and spiritual wellness.
Friday, February 12, 2021:
10:00 to 11:00 a.m. EST: Care Partners who became Authors: Linda Burhans, Seminole, FL., Vicky Veasey, Homosassa, FL., Susan Straley, Inverness, FL.; A panel of care partners who published books to help others discuss their experience.
11:00 to Noon EST: Curt Seefeldt, Director of Church Relations at the Lutheran Home Association, Belle Plaine, MN. and Ed Youngblood, CDP and Director of Communications for Coping with Dementia LLC, Inverness, FL. discuss the development and benefits of Dementia Friendly congregations.
2:00 to 3:00 p.m. EST: Linda Boles, President of Find-M-Friends, Crystal River, FL, and Chris Dearden, Sergeant, Citrus County Sheriff's Office, Citrus County, FL; Training and using bloodhounds, with the aid of human scent preservation kits, to save money and lives when seniors wander and go missing.
3:00 to 4:00 p.m. EST: Review and wrap-up by Debbie Selsavage, President of Coping with Dementia LLC, Citrus County, FL.
February 9 through 12: Spreading the Love:
Throughout the Conference, participants will be urged to buy or create valentines containing loving messages for individuals living with dementia. They will be asked to deliver these to memory care facilities in their communities on Saturday, February 13 to be presented to residents on Valentine's Day, Sunday, February 14th.
Comments or questions about this tentative agenda may be sent to deb@coping.today or to dementiaed@aol.com.
Earn while you Learn with our big Gift Card Giveaway!
Most presentations will include a Q&A session at the end. E-mail your questions for the experts and win a free gift card, generously provided by one of our Conference Sponsors!
Gift cards will be award for questions chosen to be read on the air. Questions selected to be read are at the sole discretion of the organizer. The number of questions read will be subject to time constraints. The products or services provided through gift cards will be at the sole discretion of the Conference Sponsors that provide gift cards. Inquiries about the contest should be sent to dementiaed@aol.com.
From the Modern Hippocratic Oath:
I will remember that there is art to medicine as well as science, and that warmth, sympathy, and understanding
may outweigh the surgeon's knife or the chemist's drug.